Babies in Mind was written by clinical psychologist and trained midwife, Jenny Perkel. It is aimed at parents and anyone else who is involved in the day-to-day care of a baby.
The book is designed to support you and build confidence in your own unique parenting style and ability. It helps you to understand what your baby needs from you and how important it is to tune into her needs. It also explains what stresses your baby and how to help her. The book goes into the reasons why it is so stressful to take care of a baby and what to do about it. Loads of advice is given about how to survive parenthood without losing your sanity. Feeding, sleeping, crying, development, the role of the father, high-need babies, postnatal depression and other topics relevant to you and your baby are all discussed in a way that is useful and easy to read. The book is designed to be dipped in and out of as the need arises.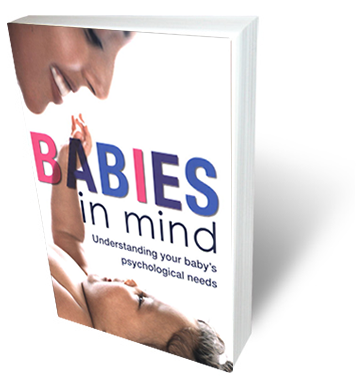 Useful tips, personal exercises and bits of relevant info make the book valuable and extremely practical. In order to help you to evaluate your own mental state, self-rating scales for anxiety, depression and postnatal depression have been included. Guidance is given about how, when and where to seek help if you need it.
The new, revised edition of Babies in Mind is available on Amazon Kindle and at various other online stores. Alternatively, you can buy a copy of Babies in Mind directly from this website. Contact Jenny Perkel for any queries at jenny@perkel.co.za or 2721 4619153.